Enterprise Capacity Manager®
Use a single comprehensive system for satellite capacity planning, management, and operations
Streamline business management functions with automated capacity usage reports
Forecast and calculate technical link budgets, financial quotations, and contract invoices
Coordinate and organize data over multiple users, databases, and web services
About Enterprise Capacity Manager® (ECM™)
ECM is a software system designed for use by satellite operators and satellite service providers that integrates all aspects of satellite capacity sales, planning, management, and operations into a single system.
ECM provides an unprecedented level of integration between all the different functions that users need to perform in the day-to-day operations of their business. ECM brings together marketing, sales, engineering, operations, procurement, contracts, finance, and executive management into a single system that allows these different departments to exchange information efficiently and effectively in a structured and controlled manner.
With its breadth of features, a modern graphical user interface, use of cutting-edge software technologies, and Optimal Satcom support service and training, ECM is easy to deploy, easy to learn, easy to manage, and a pleasure to use.
Click here to download the ECM Brochure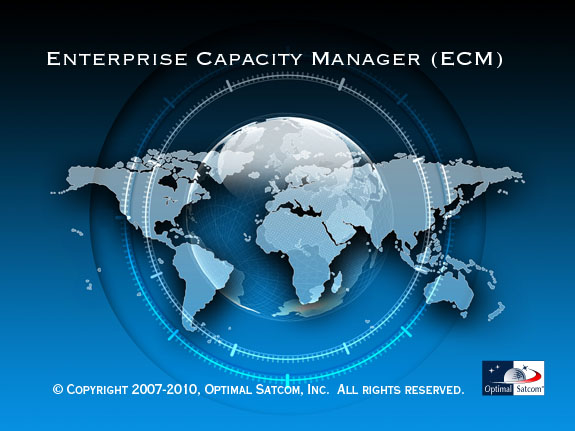 – Accomplish diverse tasks such as providing financial quotations, entering and renewing contracts, invoicing, performance monitoring, and trouble-shooting
– Issue technical link budgets, transmission plans, carrier line-up, tear-down, and re-configuration notices
– Increase operational efficiency and save time by generating reports directly in Microsoft Excel or Word format
– Quickly gauge important metrics of the system such as fill rates, future capacity bookings, and forecasting of capacity usage
– Transition from legacy systems with ease using comprehensive bulk load features
– Receive customized training catered to specific needs with data, satellites, carriers, leases, terminals, networks and services accurately represented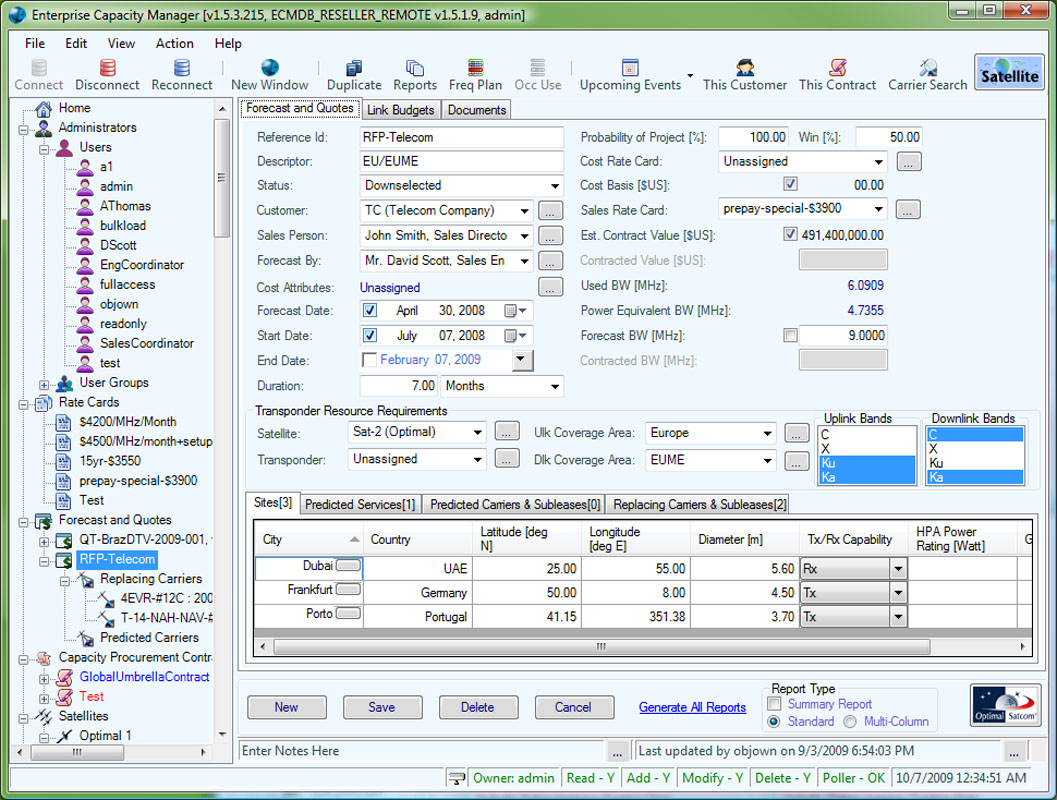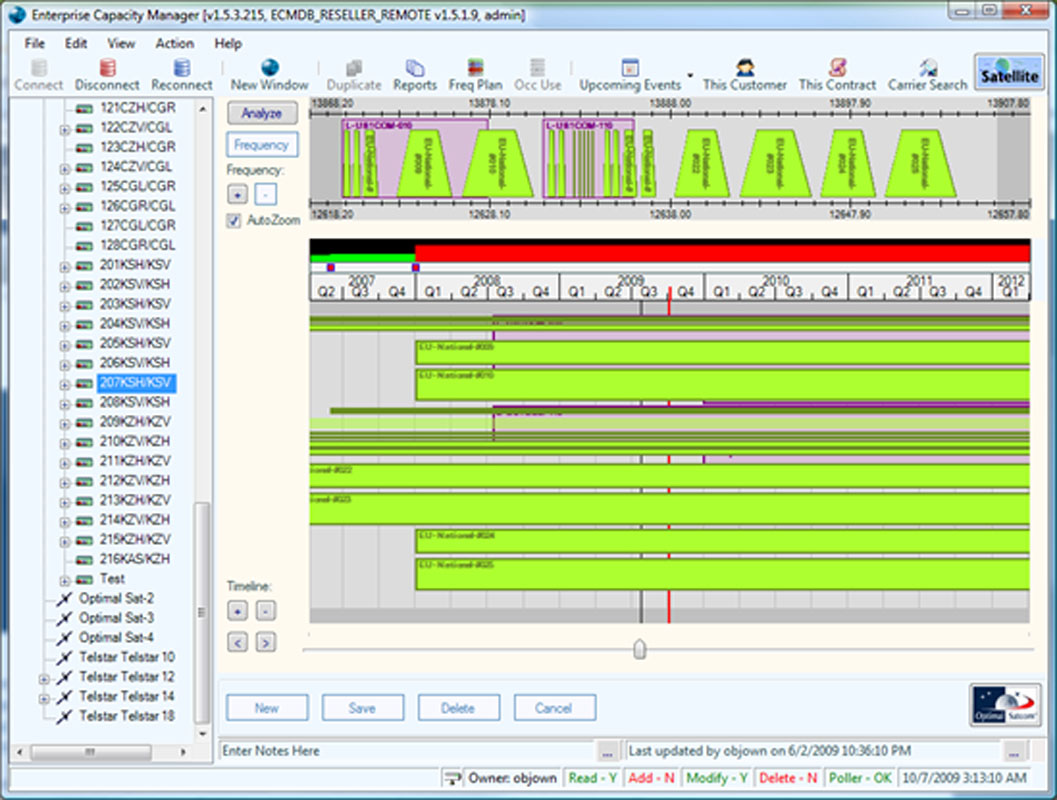 Tracks Costs, Revenues, Invoicing
and Future Capacity Needs
Defines Resources and Manages
Capacity, Leases, and Carriers
– Supports forecasting at a high level based on aggregate bandwidth and power
– Supports detailed forecasting to include ramp-up plans with specifications of the networks and carriers to be implemented, ramp-up schedules and comprehensive power and bandwidth forecasts over time
– Compute costs and revenues based on rate cards which track both recurring and nonrecurring costs for satellite bandwidth and other expenses
– Invoice using a full-featured Invoicing module that automatically generates invoices for each contract and incorporates line item charges for leases, carriers, earth station landing fees, etc.
– Generate reports displaying costs or revenues as a function of time for invoicing
– Export computed charges to an external accounting system with ease
– Organize and store customer contact information assigned to contracts, leases, earth stations, and carriers
– Defines satellites and transponders and associated technical parameters, frequency plans and coverages
– Define contracts under which VARs or VSAT operators lease capacity from multiple satellite operators or other VARs, the individual leases, and the costs associated with each contract or lease
– Plans timelines by tracking past, present, and future capacity usage, and phase-out of old capacity as satellites are retired or contracts end as transitions to new satellites and contracts occur
– Models technical aspects of lease and carrier management including lease resources; carrier transmit and receiving terminal technical parameters
– Computes comprehensive link budgets as well as power and bandwidth requirements for a carrier
– Manages operational aspects of leases and carriers including associating customers, leases, contracts, start and end dates, operations and cost centers and rate cards for revenue computations
– Generates activity documents and reports such as line-up documents; activation and deactivation notices can be generated automatically based on user-customizable templates
Occasional Use Services Module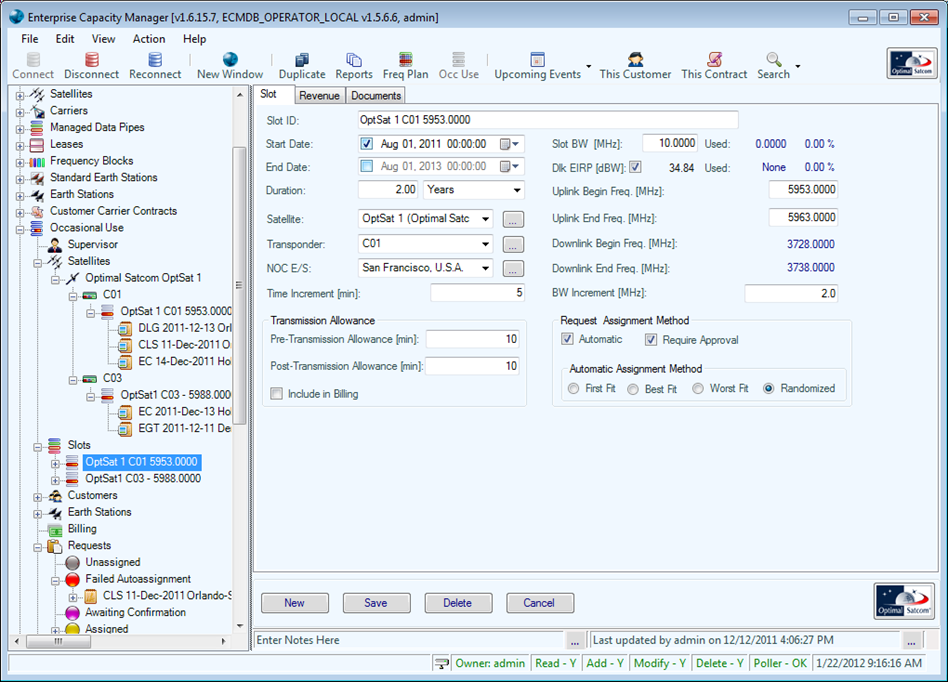 – Model occasional use (OU) services through an optional module to ECM
– Assign and manage occasional use capacity, rate cards and customer approval for OU
– Provide OU slots through a web-based slot request system, as well as by phone
– Assignments of slots can be automated, semi-automated or manually assigned
– Notify customer bookings in real-time
Interaction With Other Optimal Satcom Products
Complan®
Complan is seamlessly integrated with Optimal Satcom's ECM product. When a customer has both ECM and Complan, ECM forms the broad-based capacity management system, while Complan is used as an advanced transmission engineering and capacity optimization tool.
ECM maintains all data and is used for routine capacity management. When Complan analysis is required, ECM can automatically synthesize and export the plan to Complan for further off-line analysis. Results of Complan can later be saved back to ECM as needed. When used together, Complan and ECM form a powerful capacity management system.
Complan is a separately licensed product.
Customer Link Budget Tool (CLBT®)
Plans submitted by customers through CLBT can be imported into ECM, reviewed, and approved; approved transmission plans can be sent to customers without any data re-entry. CLBT plans imported into ECM provide all the customer's network information needed for capacity planning and management. Accurate satellite data bundled within CLBT, and extensive error checking virtually eliminates all common errors.
Antenna Coverage Program (ACP™)
All map-based results generated by ECM are rendered in ACP, a full-featured mapping and visualization software that comes bundled with ECM. ACP does not need to be procured separately.
The Enterprise Capacity Manager (ECM) is an enterprise level program, and typically has one or more servers (Windows 2012/2016) with the client software running on Windows 7/8/8.1/10.
ECM is licensed based on number of satellites and transponders to be modeled in the ECM database. It can be procured either as a perpetual license (CAPEX), or an annual license (OPEX). Perpetual licenses include one year of software upgrade, maintenance, and technical support. Support for perpetual licenses may be renewed annually after the first year. Annual licenses include support, and are required to be renewed annually to continue using the software.
The number of users who may use ECM simultaneously is not license controlled – any number of users can use ECM simultaneously based on system design, server resources, and other considerations.