Customer Link Budget Tool (CLBT)
Provide customers with a comprehensive support tool for performing link budgets and map visualizations
Distribute updateable and encrypted technical satellite and earth station data to customers
Simplify customer interaction with electronic submissions and approvals of plans
Integrate approved CLBT plans directly with capacity planning software such as ECM and Complan
About Customer Link Budget Tool (CLBT®)
CLBT is a tool that satellite operators can easily customize with their own data and provide to their customers for performing link budgets. It is a sophisticated link budget tool that includes all the necessary satellite technical data, performance specifications, frequency plans, and maps required for computing link budgets. Its state of the art features like one-click installation, automatic data and software updates, electronic submission and plan approval make it very easy to deploy. Its modern intuitive user interface makes it a pleasure to use, and builds customer goodwill. Integration with ECM and Complan allows efficient back-office capacity engineering and allocation without any data re-entry or paper link-budgets. Customized variations of CLBT are rebranded and distributed by a number of Optimal Satcom's satellite operator customers.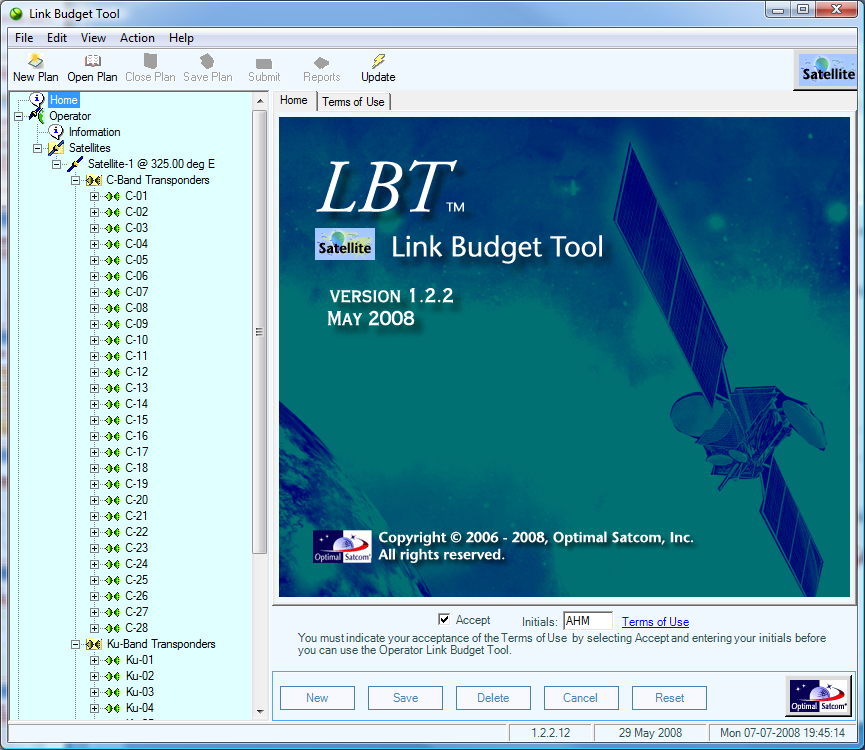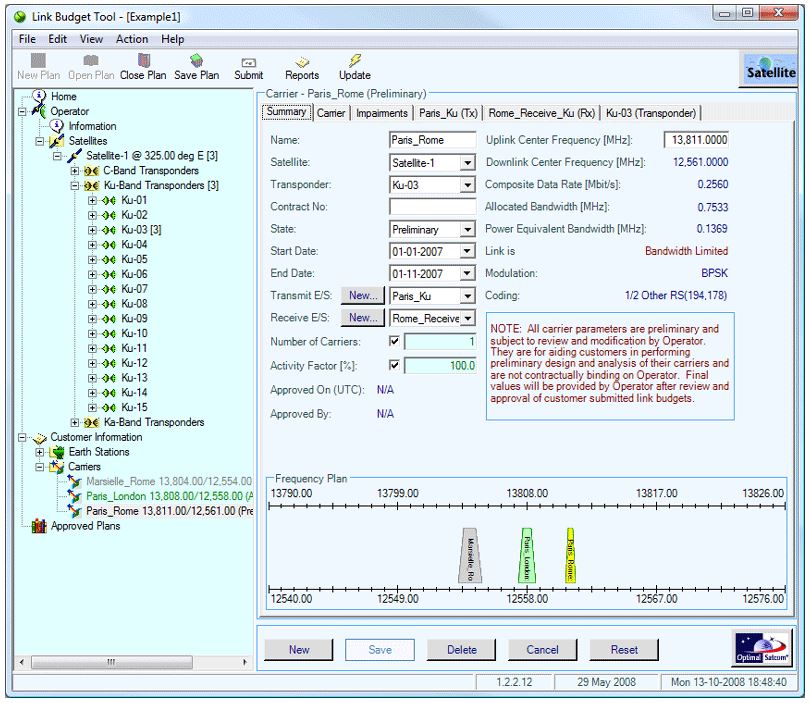 Interaction With Other Optimal Satcom Products
Enterprise Capacity Manager® (ECM™)
Plans submitted by customers through CLBT can be imported into ECM, reviewed, and approved; approved transmission plans can be sent to customers without any data re-entry. CLBT plans imported into ECM provide all the customer's network information needed for capacity planning and management. Accurate satellite data bundled within CLBT, and extensive error checking virtually eliminates all common errors.
Complan®
Plans submitted by customers through CLBT can also be imported into Complan, however, this is deprecated functionality, and will likely be removed in a later version of Complan.
The CLBT is intended to be customized with the satellite operator's data and distributed to its customers royalty free. CLBT runs on Windows 7/8/8.1/10 (32-bit and 64-bit).
CLBT is licensed based on number of satellites for which technical data is bundled in CLBT and distributed to its customers. It may be procured either as a perpetual license (CAPEX), or an annual license (OPEX). Perpetual licenses include one year of software upgrade, maintenance, and technical support. Support for perpetual licenses may be renewed annually after the first year. Annual licenses include support, and are required to be renewed annually to continue using the software.
CLBT is primarily of interest to satellite operators.