Sun Outage Calculator (SunOut™)
Predict the duration and severity of outages due to solar transits of the sun
Accurately model the sun transit, the noise model of the sun, and receive antenna characteristics
Generate customizable PDF reports
About SunOut™
The Sun Outage Calculator (SunOut) is used to predict the duration and severity of outages due to solar transits of satellites (as seen from the receive terminal). SunOut includes sophisticated models for the sun transit, the noise model of the sun, and the receive antenna characteristics, and is the most accurate tool of its kind. SunOut includes both a single and batch mode, and has configurable thresholds (noise temperature increase, G/T degradation, and C/N degradation). Results are generated in the form of customizable PDF reports.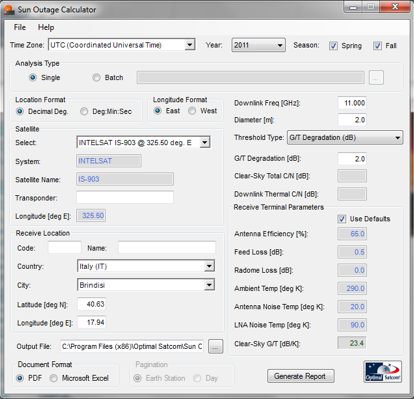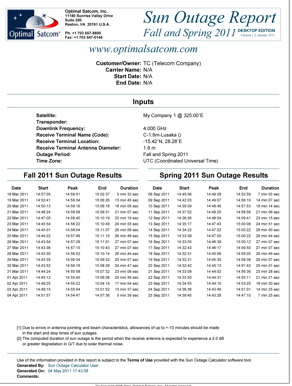 Interaction with Other Optimal Satcom Products
Complan®
Complan uses SunOut to generate sun-outage reports. SunOut is an accurate sun outage prediction software that comes bundled with Complan. SunOut does not need to be procured separately.
The Sun Outage Program (SunOut) is available as a stand-alone program, or comes bundled with ECM and Complan, and runs on Windows 7/8/8.1/10 (32-bit and 64-bit).
The Sun Outage Program is also available in a web version as part of the SATCOM Web Tools, as a well as Optimal Satcom's ECM Customer Portal product.
The stand-alone version of SunOut is licensed based on number of concurrent users. It may be procured either as a perpetual license (CAPEX), or an annual license (OPEX). Perpetual licenses include one year of software upgrade, maintenance, and technical support. Support for perpetual licenses may be renewed annually after the first year. Annual licenses include support, and are required to be renewed annually to continue using the software. It also comes included bundled with ECM and Complan. If you have procured ECM or Complan, you will probably not need to procure SunOut separately.
The web version of the SunOut program is available only as part of the SATCOM Web Tools or the ECM Customer Portal products.