Plan and optimize thousands of links in an entire network or satellite with unmatched speed, accuracy, and detail
Model and analyze commercial and military satellite systems operating in C, X, Ku, and Ka-band, including multi-beam high-throughput systems
Experience gain in productivity, savings in satellite lease and ground segment costs, and improvement in network quality and performance
Utilize detailed impairment models and sophisticated optimization algorithms proven through more than 20 years of production use by major players in the satellite industry
About Complan®
Complan is an advanced satellite transmission engineering tool used for the design, analysis, optimization, and troubleshooting of satellite communications networks. Complan can simultaneously plan and optimize hundreds or thousands of links in an entire network, or even an entire satellite. No other commercially available tool comes close to matching its speed, accuracy, and level of detail.
Complan is used by satellite operators, satellite service providers, and end-user satellite network engineers operating on both commercial and military satellites. Anyone who manages a large amount of satellite capacity or who operates large or complex satellite networks will potentially benefit from the use of Complan. Utilizing Complan, capacity engineers can manage higher volumes of capacity than are possible with traditional link budget tools or in-house developed systems. They are able to quickly analyze their networks, perform complex trade-off analyses not otherwise practically possible, and optimize system design to make efficient use of space and ground-segment resources.
Click here to download the Complan Brochure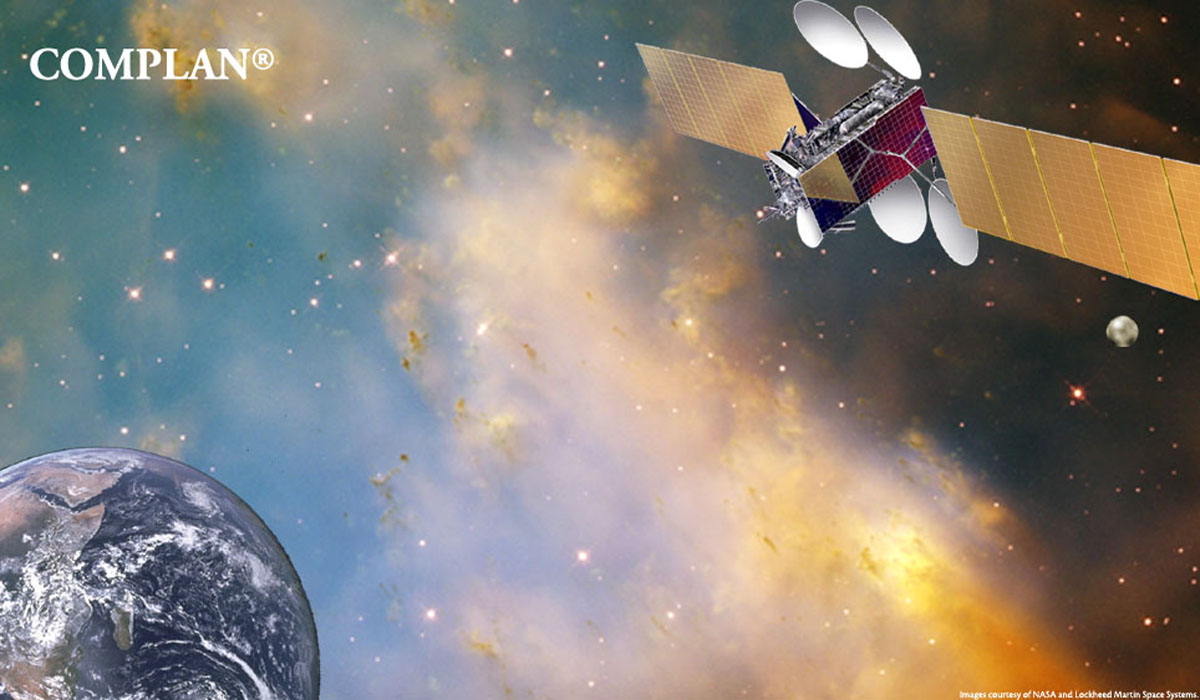 – Reduce costs by maximizing space-segment capacity utilization
– Perform trade-off analyses to minimize ground-segment infrastructure costs
– Design complex satellite networks with ease
– Manage and efficiently plan large scenarios with hundreds or thousands of links in multiple transponders
– Achieve orders-of-magnitude increase in productivity of satellite planners
– Track power and bandwidth utilization, and discover "hidden" capacity
– Troubleshoot operational plans and easily identify complex problems
– Evaluate future satellite systems and assess long-term capacity requirements
– Plan with confidence using the most accurate, laboratory and field verified models
– Ensure that transmission plans comply with customer lease allocations, FCC/ITU limits and inter-system coordination agreements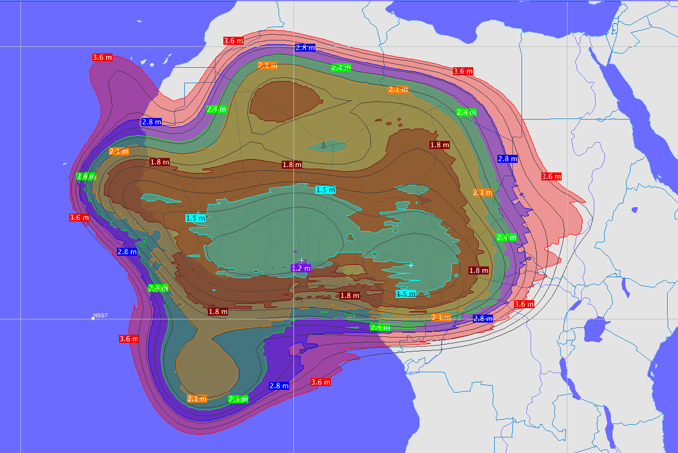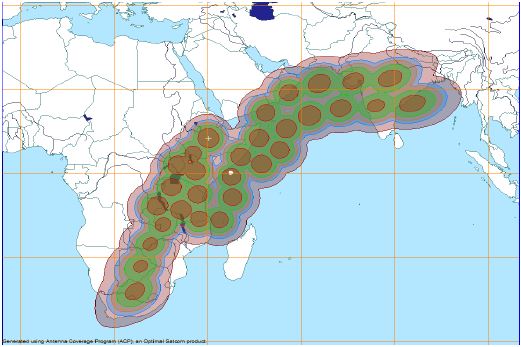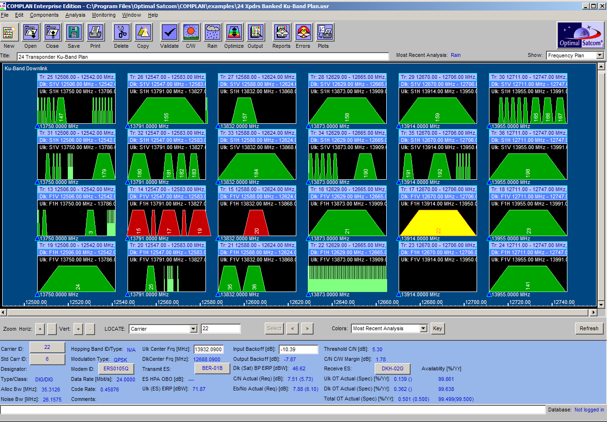 Facilitates satellite systems through planning, operational life, and end-of-life operations
Displays Satellite System Analyses in Many Report and Map Formats
Analyze and Optimize Technical
Aspects of a Satellite System with Ease
– Has the ability to model entire satellites and plan a large number of links simultaneously
– Provides detailed modeling of amplifier non-linear gain and phase-shift transfer characteristics, IMUX and OMUX filter characteristics, SFD/gain settings, uplink and downlink copol, cross-pol antenna gain patterns, and G/T and EIRP contours
– Allows for the development of power-sharing strategies for multi-beam high-throughput satellite systems
– Accurately models thermal noise, intermodulation noise, propagation impairments, and all major sources of interference – adjacent-carrier (ACI), co-channel (CCI) and adjacent satellite (ASI)
– Facilitates the transition of traffic to new satellites with intuitive frequency plans and carrier reassignment functions
– Uplink Maps include: required uplink EIRP, transmit terminal antenna size or HPA/BUC size, carrier C/N or availability as a function of transmit location, and uplink PSD limit margin (FCC or ITU)
– Downlink Maps include: carrier downlink EIRP, clear-sky Eb/No or C/N, availability under rain, required receive terminal G/T or antenna size, and aggregate ASI C/I
– Extensive set of reports and plots in ASCII, Word, Excel, and PDF
– Graphical frequency plan report
– Detailed and summary link budget reports
– Noise, margin, and power summary reports
– Rain analysis, predicted link availability, and required rain margins
– Power spectral density reports and plots – carrier power, intermodulation, co-pol and cross-pol spectrum at receive earth stations
– Broadcast performance report provides transponder and link performance for a list of cities or lat-lon locations
– Sun outage reports
– Optimizes the configuration of the satellite, including gain settings, pointing of steerable antennas, and spacecraft platform bias
– Includes the ITU, PAP, DAH, and Crane Two Component propagation models; and includes comprehensive databases of rainfall, and other climate statistics
– Extremely fast computation utilizing sophisticated non-linear optimization algorithms
– Powerful features for broadcast/wide-area planning and performance prediction
– Provides drag-and-drop carrier frequency assignment and frequency grooming functions
– Interfaces with commercial Communication
System Monitoring (CSM) systems
– Saves plans in XML standard file format and can be viewed/modified by publicly available tools
Interaction With Other Optimal Satcom Products
Enterprise Capacity Manager® (ECM™)
Complan is seamlessly integrated with Optimal Satcom's ECM product. When a customer has both ECM and Complan, ECM forms a broad-based capacity management system, while Complan is used as an advanced transmission engineering and capacity optimization tool. ECM maintains all data and is used for routine capacity management. When Complan analysis is required, ECM can automatically synthesize and export the plan to Complan for further off-line analysis. Results of Complan can later be saved back to ECM as needed. When used together, Complan and ECM form a powerful capacity management system. ECM is a separately licensed product.
Customer Link Budget Tool (CLBT®)
Plans submitted by customers through CLBT can be imported into Complan, however, this is deprecated functionality, and will likely be removed in a later version of Complan.
Antenna Coverage Program (ACP™)
All map-based results generated by Complan are rendered in ACP, a full-featured mapping and visualization software that comes bundled with Complan. ACP does not need to be procured separately.
Sun Outage Calculator (SunOut™)
Complan uses SunOut to generate sun-outage reports. SunOut is an accurate sun outage prediction software that comes bundled with Complan. SunOut does not need to be procured separately.
Complan is available in two versions:
Complan Enterprise Edition can model multiple transponders within a plan and is suitable for satellite operators.
Complan Professional Edition is limited to modeling one (1) transponder per plan and is suitable for satellite service providers and end users. In either case, there is no limit to the number of plans that may be created or used with Complan.
Complan runs on Windows 7/8/8.1/10 (32-bit and 64-bit).
Complan is licensed based on number of concurrent users. It maybe procured either as a perpetual license (CAPEX), or an annual license (OPEX). Perpetual licenses include one year of software upgrade, maintenance, and technical support. Support for perpetual licenses may be renewed annually after the first year. Annual licenses include support, and are required to be renewed annually to continue using the software.